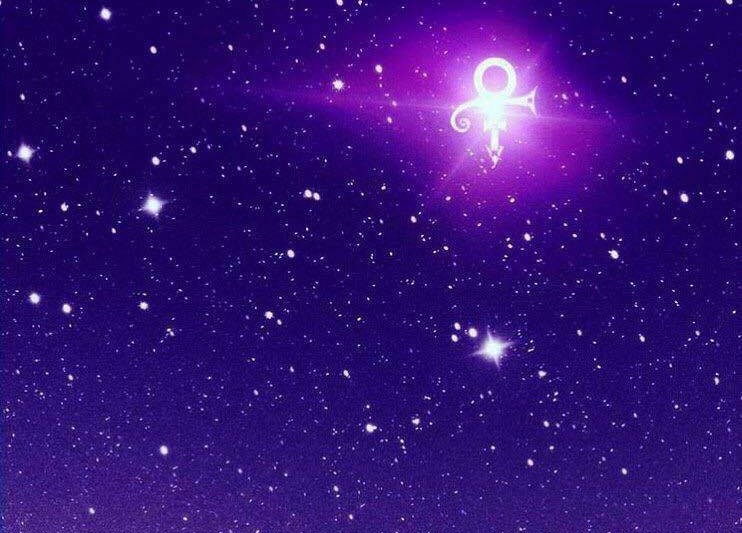 Prince: A Tribute to a Royal Purple Star
In another time's forgotten space, your eyes looked through your mother's face. Wildflower seed on the sand and stone. May the four winds blow you safely home. In Franklin's Tower the four winds sleep, like four lean hounds the lighthouse keep. Wildflower seed in the sand and wind. May the four winds blow you home again. – Robert Hunter, 1975
Hello friends. I couldn't have foreseen that I would be writing a tribute to another one of the greatest innovators and musical artists of our time this year, Prince Rogers Nelson. He transitioned in the Libra moon void of ironically what I called the "total Blam Blam" Full Moon in Scorpio, to borrow a lyrical phrase from Bowie. With his Scorpio Rising contacting that potent moon and Neptune transiting his 12th house it all was distinctly poetic, albeit still a great loss for fans all over the world. One of my wise astrologer friends was picking up on "The Tower" energy right as I was picking up on the lunar intensity. This was before we both heard of his passing. Later on Thursday, one of the Cosmic Tunes that came through was "Franklin's Tower" as performed by the Grateful Dead, quoted here above. How beautiful and appropriate.
Having more time to let the Purple One's passing sink in, I thought about this. Several of my friends had stories of him being heavily booed off the stage when he opened for the Rolling Stones back in the day in his platform boots, purple glitter raincoat and g-string. That crowd was definitely not ready for that. Oh well. He had arrived and didn't go anywhere for almost four decades. I respected him on that point alone. That was so brave.
Another thing in common with Bowie but right here in the US, is that he made it okay to be a "weird" kid, to be LGBTQ and/or not look like everyone else. He crossed all racial, gender and sexual lines in a quietly defiant way that was his alone. Besides being a musical genius, there was definitely that wayshower aspect too.
Like other souls with a profound mission he would remain undeterred, despite what the critics and naysayers said. This review found on Twitter this morning cracked me up. "Mick Jagger should just fold up his penis and go home." – Robert Christgau reviewing the "Dirty Mind" album by Prince in 1980.
Dear ones, you have asked us to comment on the one known to you as Prince. As you may have noticed, there has been a pattern of those most luminous "stars" to be called home perhaps sooner than expected or desired in the general public. Though we cannot comment on his individual karma and soul agreement in great detail; we can share that there was an understanding on a deeper, spiritual level of his imminent physical departure. Like other great performing artists such as your David Bowie, their legacy will live on long past their brief time on earth.
It has been noted that your "9" vibration is a completion energy and signals the end of certain eras and timelines. Though it may feel confusing or sad to you that these beings have been called home, it is actually a great celebration in Spirit for a job well done.
Profound and innovative artists such as Bowie and Prince have a large soul group that travels with them. This group is made up of concentric circles of energy – some are close in and others somewhat further out. It is not uncommon for those in these soul groups to receive messages from them either in waking consciousness or in dreams and this will continue.We understand in the collective emotional body of humankind there is an impact upon departures of this nature due to grief and shock. The Celestials and Healing Angels are on hand to provide grounding and soothing energies. Shanti. – The Keepers, 4.22.16
Interestingly, I didn't think I would be in direct contact with Prince. I had several friends who did so on the day of his passing. What I received was on the third day, 4.23.16. I wrote a post at Facebook about how there was as in teaching in that, as several folks who have never gone public with their messages and gifts did so this week, overriding any fears that they had. It felt good to step out of the way and let that happen in divine timing. That was very much what he was all about too; being yourself and not hiding or being embarrassed to share what you have been given. Like the divine trickster energy he often embodied (Sun in Gemini,) he came through right after I posted about not talking to him. 🙂 That was perfect too, I thought.
God called me home and I was happy to go. Thank you to everyone who loved my music. I am so grateful and I love you all. I did what I came here to do: make music and spread a message of love.
Music is everything. It has all of the colors of life and energy within it. That is why I played multiple instruments, I didn't want to limit myself to just one type of expression.
Q: What can we do to continue your legacy of love and service?
A: Be loving and good to each other. Help where you can. Looking at you now it is like a vast purple sea! I am deeply humbled and moved.
I'm sure you know (IK) that the detached or aloof exterior I would display at times was to protect my inner sensitivity. It is what allowed me to create and express as I did. I chose a multifaceted (Gemini/Scorpio energy) personality for a reason. It allowed me to understand humanity much more deeply.
See me as just one vessel of God's greatness and glory. You are all my brothers and sisters. We will meet again. – Prince, 4.23.16
Thank you for everything. All blessings and good travels to Prince Rogers Nelson (1958-2016.)